About DongDu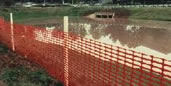 Dongdu is a leading company exporting safety fences and safety netting, based in North China. Our major products cover orange plastic fence, plastic safety fencing, nylon safety fencing, safety fence barriers, safety netting and nets. Our products are widely used as snow fence, barrier net, barrier of construction sites, swimming pool safety barriers, road works, home and garden, traffic and crowd control, demolition events, hazardous chemical areas, for warning and safety uses.

We supply plastic safety fencing of all types. We export in big volume every year snow fencing, safety barrier fencing, nylon safety netting and orange plastic fences for construction industry, traffic and various uses.

Made of raw material of brand new HDPE with UV stabilized, our safety fences enjoy high strength, high visibility, good ageing resistance, anti-corrosion, softness and portability and can be reused.

For more information, you are welcome to send us an inquiry.